Party in 2019, 20 years of 4D tango in SCALA, May 29th – June 2nd
On this anniversary festival, we are thrilled, Yailet Suarez & Julio Alvarez  are coming back and also the super inspiring and passionate orchestra Roulotte Tango reinforced with vocals. And we are going to meet the tango couple Tania Heer & René-Marie Meignan from France.
An opening workshop including milonga for €20 and 2 workshops for €10 because we celebrate 20 years 4D tango.
Dancing until the late hours in 5 milongas, in two of them Roulotte live, with the dj's Jimini, Isaac, David Xtango, Christoph, Bart. Outdoor dancing on Friday afternoon with dj Robert Jan and on Saturday Erdi, we hope for good weather!
Sunday, June 2, we have a free milonga/reception with hopefully many visitors from the tango community to reminisce. Together we will drink a glass of champagne and enjoy a delicious Pies/Cakes buffet >>, savory and sweet, homemade and brought by dancers. It would be great doing this with people from the very beginning, with all dj's who regularly play(ed) at our milongas, with (old)teachers, dancers and all the volunteers.
Looking for a place to stay? Looking for a room in the neighborhood mail Sonja >> on which day you arrive and which day you'll leave, and if you prefer non smoking or no objection.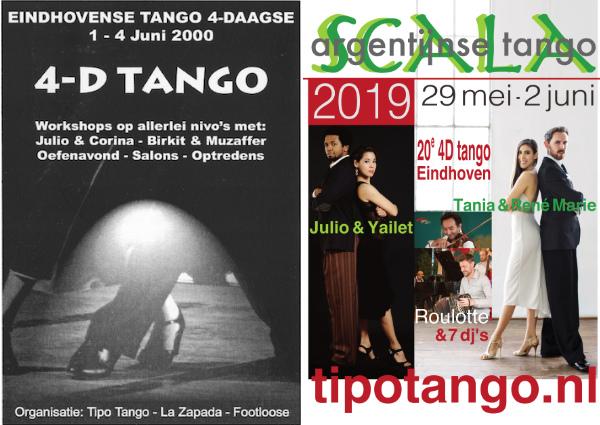 Every evening: snacks during the milonga
Daily: bring, sell and buy, your vintage clothing & shoes for the 4D market
30.5 Muy Bueno Mexican Food stall with 2 menu options, €7 and €6
30.5 – 1.6 massage by Kyrah Human Move
31.5 – 1.6 Jetuelle.com, elegant & high-quality Tango shoes for women
31.5 – 1.6 jelena-d.nl, shining light & fair trade dancewear f/m
31.5 Italian food by Ralph and the tipo-crew & 1 drink, €12
1.6 Turkisch food by Sahize & 1 drink, €12


The festival was founded by Marijke Sleegers, Jan van Amelsvoort and Jacob van Kokswijk. This in cooperation with Birkit & Muzaffer 
(La Zapada) and Footloose.
4D tango – the name coined by Birkit – has hardly changed as a concept over the last 20 years and has grown to become an internationally known festival.