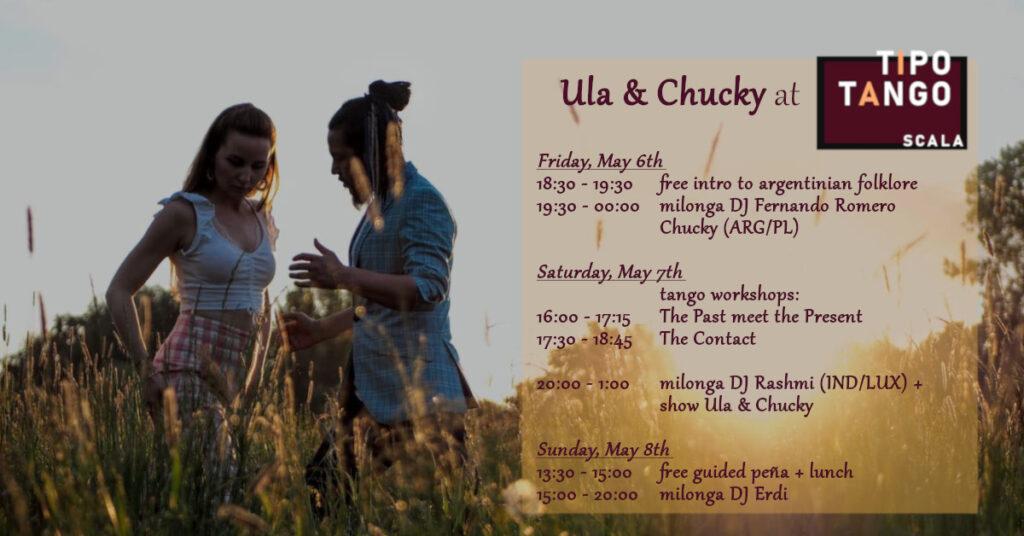 In the beginning May we are planning a special weekend with Maestros From Friday 6th to Sunday 8th of May we will be organising a series of milongas, workshops and free demos. In this news item we would like to inform you about what you can expect here. For questions, please send an email to events@tipotango.nl
About the teachers
Chucky and Ula are professional dancers living in Warsaw, Poland. Chucky is originally from Rosario, Argentina, and started his dance/showman career when he was 4. He originally started out as a Malambo dancer; a folkloric dance from Argentina. With time, the rest of the Folkloric dances such as Chacarera and Zamba were quickly added to this and of course the Argentine Tango of Buenos Aires. From all this dancing experience, his knowledge of body control and movement is very impressive, and he is also very good at teaching it to others. The themes of the Tango workshops are specifically chosen for this unique experience. Ula is a beautiful and very experienced dancer from Warsaw. Besides years of experience teaching with Chucky, she has lived in Argentina for a while to delve into Argentine Tango and Folklore. She is also very active in the Warsaw Tango/Folklore scene and is currently working on some awesome new projects! It is definitely a golden opportunity to experience a lesson from them!
Friday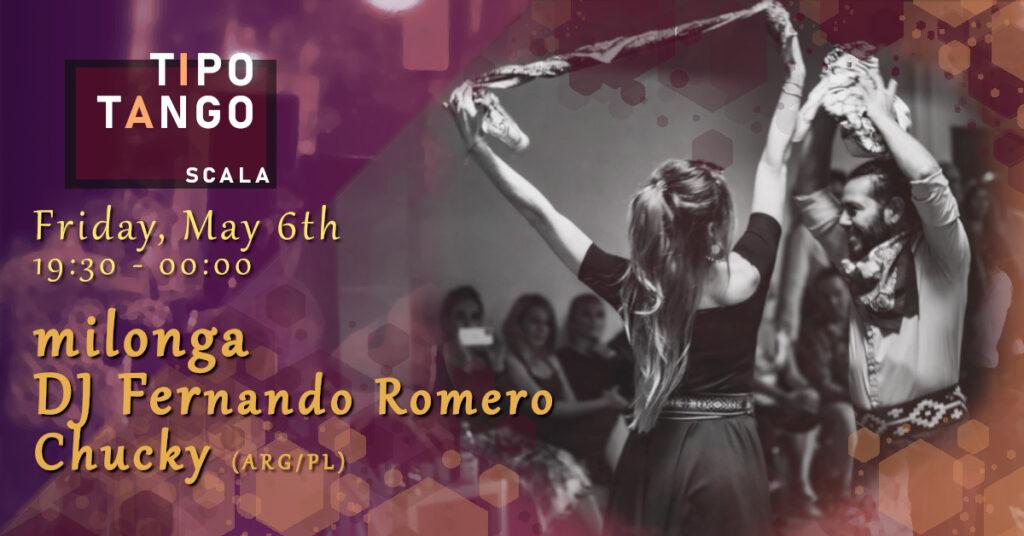 [18:30 – 19:30] Free Argentine Folklore Demo Workshop
Beforehand, Chucky and Ula will give a free demo of Argentine Folklore. Expect to learn the basic steps of Chacarera and/or Zamba here. This is suitable for all knowledge levels! Folkloric dances are the most popular in Argentina, and are also starting to gain popularity in the European Tango environment, especially in Eastern countries! If you ever go to a bigger Tango Events in the east (Marathon/Festival) there's a good chance that one or two Folklore songs will be played as an interlude. No registration required, just walk in and learn these beautiful dances!
[19:30 – 00:00] Milonga with DJ Fernando Romero 'Chucky' & Folklore demo show
The music will be brought to you by our guest Chucky. With his deep knowledge of Argentine culture and music, a very pleasant evening is guaranteed! During the evening, Chucky and Ula will give a short folklore demo show.
Price Friday evening Milonga 7,50 €
Saturday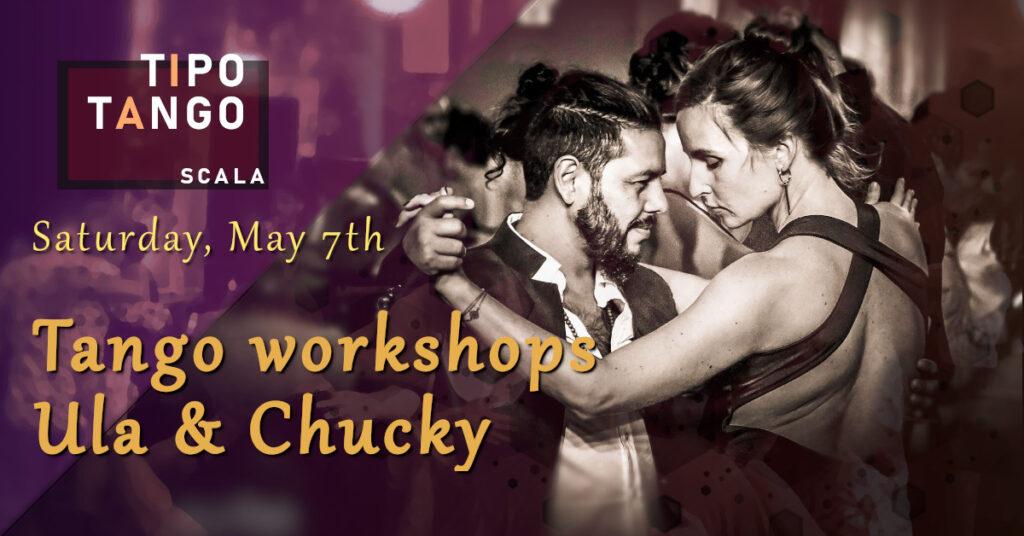 The Workshops
We will organize two themed workshops. The focus of the workshops will be more on the experience of dancing than on the technique of the steps. How do you become a greater dancer without doing a lot? The secret lies in the connection and the non-verbal communication between the partners.
16:00 – 17:15] Workshop 1: The past meets the present
How can we transfer the dancing structures of the old 'Milongueros' from the past to the dancers of today? Argentine Tango has changed a lot over the decades. In the first half of the century it looked different from what we see in salons today. In those times, a 'giro' or an 'ocho' was exciting enough! The step vocabulary was much more limited in those days than it is today, so in these workshops with Chucky and Ula we want to explore how we can use these elements creatively on the dance floor today.
[17:30 – 18:45] Workshop 2: The contact
The name says it all: Contact. On the basis of the preceding workshop, we will explore how we can best use our bodies to communicate to our partner what our dance intentions are. How can you as a leader best express and lead your intentions, and how can you as a follower absorb and execute this information effectively.
Between the workshops and the Milonga there is the possibility to have a nice meal together. This way we don't have to leave the location and get to know each other better! Bringing food to share is much appreciated!
[20:00 – 01:00] Saturday night Milonga with DJ Rashmi & Show
For the first time in the Netherlands, DJ Rashmi! Rashmi is originally from India and until recently she lived in Poznan, Poland before moving near us in Luxembourg. Rashmi has become known in recent months as a DJ with a very good taste balance and sense of energy at bigger events in Poland, so it is an honour to welcome her to us.
Prices:
Saturday evening Milonga – 10,00 €
1 Workshop – 15,00 €
2 Workshops – 25,00 €
2 Workshops + Saturday evening Milonga with DJ Rashmi & Performance – € 30,00
Register here for the workshops: forms.gle/QnrkZsZptdeZjXL6A
Sunday afternoon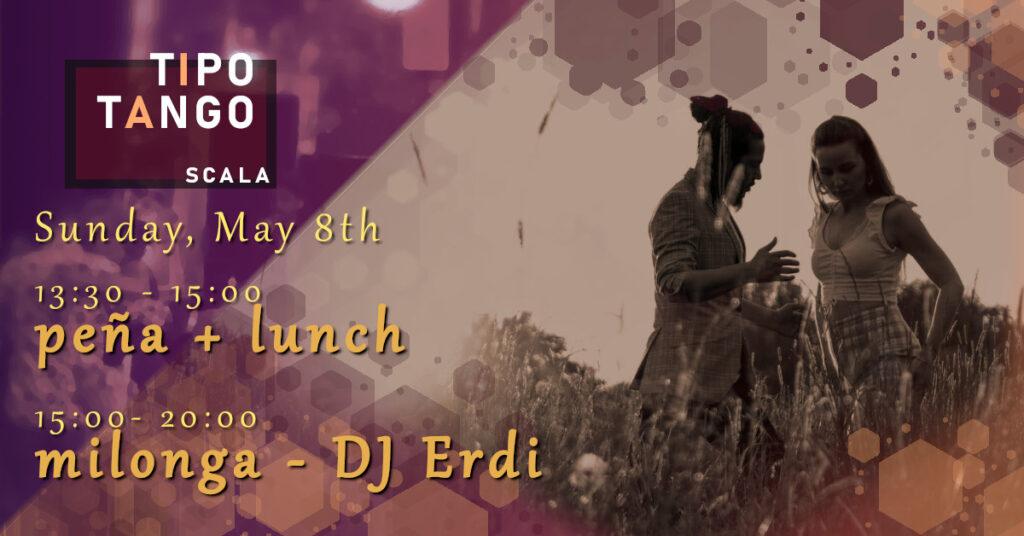 [13:30 – 15:00] Lunch & Peña guidance (Free)
Come and have lunch with us. With the food we are going to get acquainted with the concept of a Peña! A Peña is an occasion where musicians, artists and dancers gather to express their arts together. Peñas are popular in South America, and very convivial events. Sharing the (brought) food is of course part of this! The Peña will be accompanied by Chucky & Ula and with guest teachers Julia Ozols and Mariano Laplume. Feel welcome even if you've never had contact with Argentine Folklore and get your first experience with us!
[15:00 – 20:00] Sunday afternoon Milonga with DJ Erdi
Our own house DJ Erdi will close the weekend with his music on Sunday afternoon salon. Erdi is our local DJ and is also involved with expanding the tango community in Eindhoven by giving lessons to an international group of young dancers in the weekends with his wife lovely Sinam. In middle of the event, we will have an interactive folklore improv performance!
Price Sunday afternoon Milonga € 7,50
Save the date for this beautiful event.