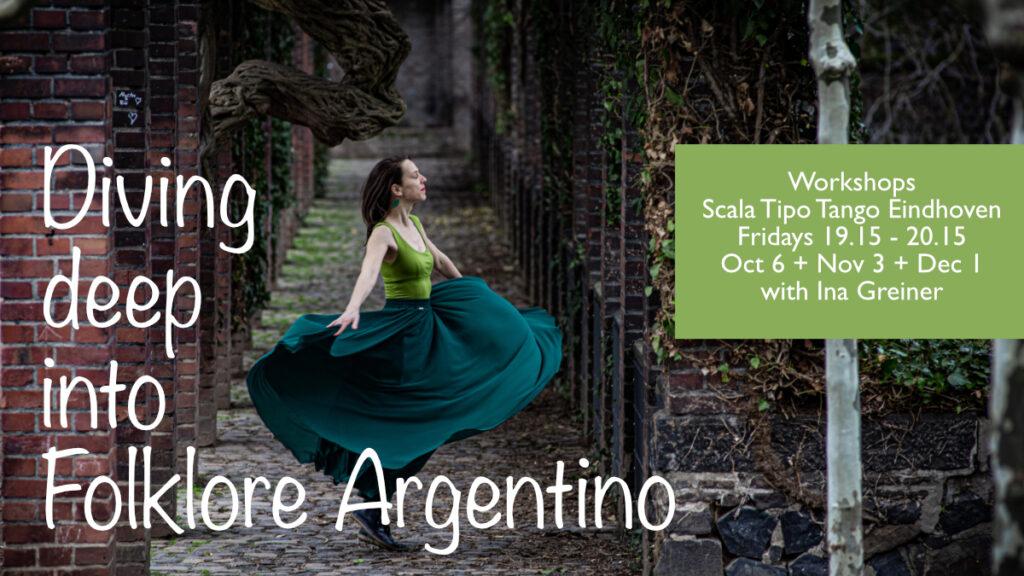 On 3 Fridays, BailarINA (Ina Greiner) introduces us to Argentine Folklore.
The choreographies of Folklore are simple, and thus offer us an easy way to enter this wonderful world … and then dive deeper. The most fascinating part is the intense connection even if or exactly because we are just touching the other with our eyes. The possibilities of personal expression are immense when you learn to play. But beware, you might get hooked 😉
In three workshops we will build a strong base and dive much deeper from there. You can take single workshops, but it is recommended to take all of them for the full experience. If you never danced Folklore before, don't be afraid to join. We will always do some basics in the beginning and then take you with us through building strong connections between dancers.
You don't need a partner to participate!
About Ina
In 2016 she discovered Folklore Argentino as her second passion after Tango. Since then she has travelled to and learned from various teachers in and around Argentina & Europe and she has been playing a major role in building a Folklore community in Köln by teaching classes and organizing events and by always being present when there is some folklore going on.
Fridays 19.15 – 20.15 | Oct 6 + Nov 3 + Dec 1
1 class: 15 €
3 classes: 39 €
Registration here.