Carlos y Mirella workshop weekend
12 June 2021 @ 14:00

-

13 June 2021 @ 16:30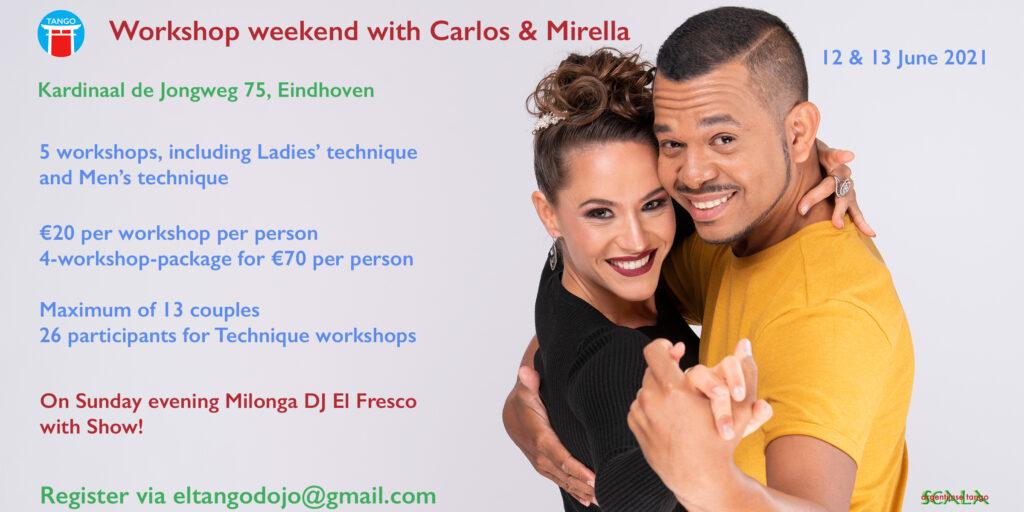 We can finally dance again! To celebrate that we have decided to organize a nice workshop weekend with Carlos and Mirella!
On 12 and 13 June, we will brush up our tango skills with Carlos & Mirella and then proceed to take said skills to the next level.
This time we will offer a total of 5 workshops. Including a Ladies' Technique and a Men's Technique workshop.
Prices:
1. €20 per person per workshop.
2. €70 per person for a package of 4 workshops.
The maximum number of participants for the technique workshops will be 26. For the other workshops, the maximum will be 13 couples. Register on time to avoid missing out!
REGISTRATION: eltangodojo@gmail.com
After the workshops, you can join Tipotango's milongas in the evening. You will need to register for a milonga via this website.
On Sunday evening djEl Fresco will take care of the music and later on Carlos & Mirella will give a performance.
PROGRAM WORKSHOP WEEKEND:
Saturday
14:00-15:30–> Ladies' Technique
16:00-17:30–> Men's Technique
19:00-20:30–> Vals: Understanding and using tango vals rhythm.
21:00-00:00–> Milonga djEl Rojo.
Sunday
13:00-14:30–> Milonga: From lisa to trapié! Bringing some rhythm and flow to your milonga.
15:00-16:30–> Tango: Turns out of axis!
18:00-21:00–> Milonga djEl Fresco with show Carlos & Mirella.
Questions? You can contact us via eltangodojo@gmail.com or by calling to 06-39775054 (Francis).