Workshop Guillermina y José Carlos
10 June 2019 @ 15:30

-

16:45
On Monday June 10 (Whitsun) we offer you an inspiring workshop Tango Salón with the pasionate dancers Guillermina van der Linden and José Carlos Romero Vedia, both coming directly of Buenos Aires. In their workshop they will strongly pay attention to the connection and the quality of the embrace, working with the base elements for milongueros, like caminata, giro & contra giro, sacadas and planeos. Ideal for dancers who would like to improvise comfortably ánd nicely in the milonga, without losing the musicality and contact with their dance partner.
Open for all levels, also for dancers with less or no dancing experience! Guillermina and Carlos will give personal attention and specific tips to every participant.
15:30 – 16:45, costs workshop: € 15,- pp. Max 10 couples register >>
Exceeding the maximum of inscriptions, we will plan a second workshop (14:00-15:15)!
During the milonga, later on the evening, Guillermina and Carlos will give a tango performance: 'a la gorra'.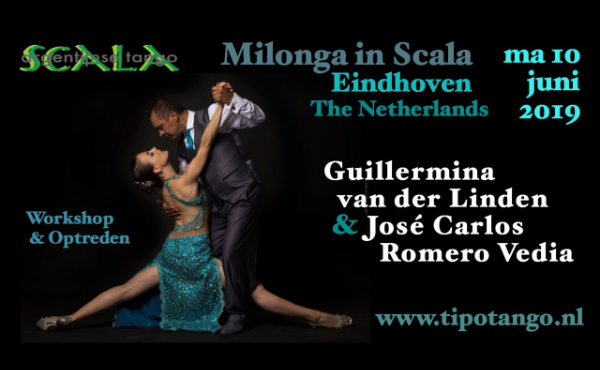 Guillermina (Willemijn) van der Linden was a visitor of our salon, until she quit her life in the Netherlands following her great passion: tango. The dance always was a big, but hobby-like passion for Guillermina: from childhood on she danced classical ballet. In 2015, when she decided to move to Buenos Aires, she just finished her PhD on literature and she was working as a university teacher at the department of Modern Dutch Literature at the University of Amsterdam.
Nowadays she is a professional dancer and lives for and of her tango. She works together with a group of 15 professional dancers in the well-known street show Florida Lavalle Tango, directed by José Carlos Romero Vedia. Together with José Carlos (also her dance partner and a referent in the local tang scene) she performed in various important milongas in Buenos Aires. They travelled three times to Chile to teach and perform. On regular base they teach tango in Buenos Aires to Argentine students and (Dutch) tourists.
José Carlos Romero Vedia started his career as a tango dancer in 1989 when he made his debut in the well-known and highly valued tv-program "Grandes Valores del Tango". He worked in various important tango theatres in Buenos Aires ( Casa Carlos Gardel, Café de los Angelitos and Homero Manzi etc) and travelled to Japan, Korea, Germany and California, and went to a great part of South-America. Since 1997 he runs the street show Florida Lavalle tango, that integrated many known and less-known, national and international dancers. Already 8 world champions were "prepared" at Florida Lavalle Tango. Together with Guillermina, Carlos will be more than happy to share his thirty years of professional tango experience with all the dancers of TipoTango!