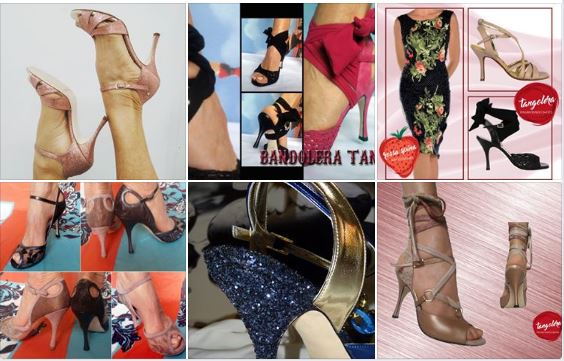 Marisa of La Tangueria Brussels will be present on Friday and Saturday with a stand of Tangolera (ex Bandolera) shoes and Rossa Spina clothes made in Italy.
Both are great quality brands with deep roots in the tradition of Italian shoes and fashion from the Emilia Romagna and San Marino region. These products have been created by experienced tango dancers with one goal; to combine the comfort required for hours and hours of dancing, with an innovative and high performance line of Italian footwear. The innovative NO MORE PAIN footbed for the women's line is developed, a unique feature that makes Tangolera the queen of tango shoes, present all over the world.
Rossaspina Tango Clothes proposes a range of dancing jeans and pants for men and dresses, skirts, tops and pants suitable for dancing and to enhance woman's femminility. Rossaspina is lively, young, rich in colours, with a collection perfectly matching to "Tangolera" shoes. Rossaspina produces high quality garments, easily wearable, not necessary to iron, ready for every suitcase, and moreover, not factory-made, using always new fabrics and colours for the "Tanguere", who love to keep their uniqueness and to feel really attractive.

If you want to be sure to find what you want, you can contact Marisa upfront via info@tangueria.be and ask her to bring along specific models of shoes (collection: www.tangolerashoes.com) or clothes (collection: www.rossaspina.it) in your size. If you contact her 2 weeks ahead, she can order them for you. Or just ask her to bring something more general, such as "silver shoes in size 40 heel 7 cm", or a "red dress size XS", …
Payment is possible in cash, Paypal or by IBAN bank transfer.