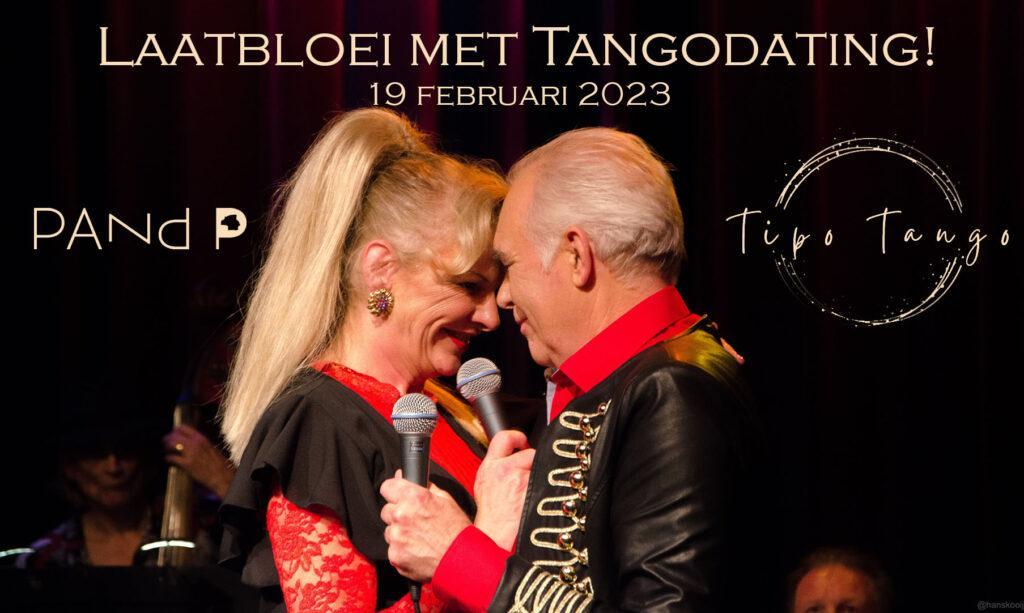 Laatbloei dines, dances and plays at Pand-P, and be sure to bring your dancing shoes!
Laatbloei will be in Eindhoven on 19 February, and it will really be a party!
Tipo Tango invites you, in collaboration with Laatbloei and Pand-P, to an evening all-in.
At 17:30, a delicious dinner will be served in the restaurant, at tables arranged around an open space, where at 19:00 you will be offered a tango dancing workshop by dance couple Sinem and Erdi. This will allow you to be well-prepared for the performance Laatbloei with Tangodating, Close Embrace in a Dutch Milonga, in the main hall at 20:00.
At the end of that performance, around 21:15, you will know how, as a true Argentine tango dancer, you invite each other to this dance full of passion, and you can start applying it right away! Whether you were introduced to this beautiful dance for the first time at the workshop or are already an experienced dancer: at 9.30 p.m. in the main hall, the Salon will start where everyone can take to the floor to dance the stars from heaven. Seize the opportunity to pull out your finest costume or gown, and together we will create an oasis of elegance and beauty in these Carnival days, and remember: this is how they celebrate in Buenos Aires!
The story of the show:
Two people meet at a first Tango lesson. They tell each other between dance steps what their lives are like at the moment. The tango dance couple Sinem and Erdi illustrate this story in small performances between songs. In doing so, they do not limit themselves to "tango demonstration dance", but also translate the emotions that have just passed into their choreography. In this musical performance, Laatboei performs their own lyrics and compositions complemented by a few existing tangos to their own arrangements. Not all music is tango, lyrics and music are very varied, but everything is focused on what we believe is the theme of Argentine tango: living with passion, joy and sorrow. A special combination of Dutch-speaking cabaret with Argentine tango.
Duration approximately 1 hour and 15 minutes.
Singing and performing: Saskia Riemens and Gerrit Hoogstraaten
Dancing: Sinem and Erdi
Music:
Rebecca van Amerongen, piano.
Bel van der Linden, contrabass.
Marcel Dymanus, bandoneon.
Philip Jonkers, violin.
There are tickets for dinner, workshop, performance and salon (including dinner, excluding drinks), starting at 17:30 o'clock.
And there are tickets for the performance and salon only, starting at 20:00 o'clock.
Workshop and salon cannot be booked separately, you will only have access with either of these tickets