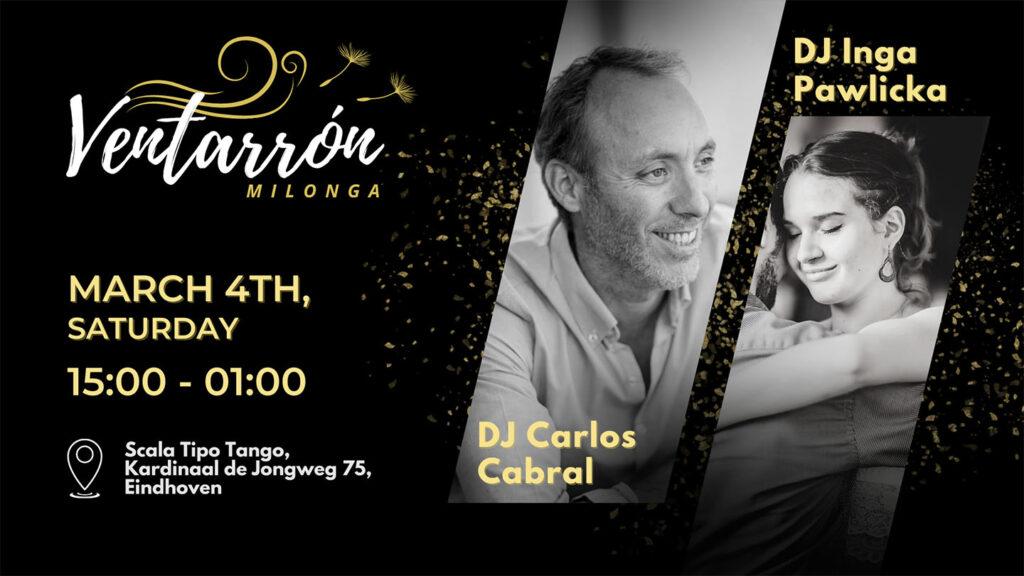 Welcome to the third edition of Ventarrón Milonga on Saturday the 4th of March 2023!
Brace your feet for 10 hours of incredible tandas brought to you by our amazing DJs! On this edition, DJs Carlos Cabral and Inga Pawlicka will be making sure you will dance all tandas with their incredible sets.
REGISTRATION OPEN:
Due to high demand, registration will be mandatory. 130 people is the absolute maximum! Register here
DINNER:
We have arranged a cooperation with FAB28, the restaurant downstairs, to cook a vegetarian friendly dinner for participants between 18.00 and 20.00.
Schedule:
15:00 – 20:00 DJ Inga Pawlicka (Poland – PL)
20:00 – 01:00 DJ Carlos Cabral (Portugal – PT)
18:00 – 20:00 Vegetarian Dinner at FAB28 (downstairs)
Prices:
15 Euros – Entrance –
10 Euros – Dinner (Vegetarian) incl. welcome drink (up to 2.50 Euros) –
Next editions:
– November 4th, 2023
– January 6th, 2024
– March 2nd, 2024
Organised by: Vincent & Stefania
Hosted by: Tipo Tango