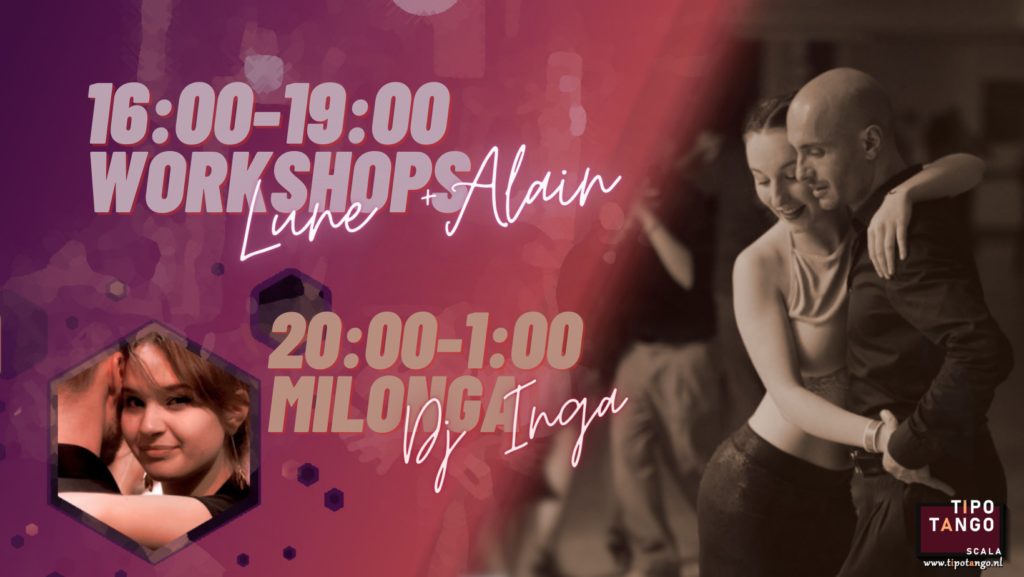 On the 9th of July (Saturday) we are hosting a milonga + show & workshops with lovely couple Lune & Alain and our gorgeous DJ Inga. Just like last time, we will order pizzas to be delivered between the workshops and the Milonga so we can all get to know each other better! Sign-up is only required for the workshops & Pizza. Sign up for workshops here https://forms.gle/soG7ssmP37w8RXEa6
Alain and Lune have developed a great bond through a joyful interpretation of tango founded on musicality, mutual listening and improvisation. Through countless hours of practice at milongas all over France and Europe, they have become accomplished and motivated and found a love in transmitting their devouring passion for this superb dance to others. They have been teaching together for 4 years in their city Lille (France) and are regularly invited to give shows at various events and to teach their art with enthusiasm. In April 2019 they participated in the European Tango Championship Pista category and reached the finals among 15 other pairs of dancers.
Workshop 1 – Lady-styling / front walk –
Walking beautifully in high heels and keeping this beautiful movement into front ochos. We will work on the articulation of the entire body into the front walk, as it's a walk followers don't use or practice so much. We will understand how we use and play with the axis for improving the followers' walk. Note that despite the name Lady-styling, this workshop is suited for anyone interested in improving their following technique, men are therefore also very welcome! No partner required.
Workshop 2 – Tango musicality workshop –
In this workshop we will work on variations of walk intensity with the goal of improving our musicality. We will learn how, with only easy walk steps, we can already play on the music using different sizes of steps for different intensity of movement, and different speed of walk depending on the music. It is not required (but it is advised) to have a partner for Workshop 2. We will pair couples on the spot and rotate partners if you don't have someone to sign up with. Please keep in mind we cannot guarantee role balance if you don't have your own partner and might therefore do some leading and following as needed. Don't worry! It's about the musicality, not the steps!
If you do have someone to sign up with for the workshop and don't need/want to participate in the rotation of partners, please ask them to sign up with this form as well. This is useful for us so we know how many pizzas we need to order and what their dietary restrictions are.
Prices:
– 10€ Pizza
– 10€ Milonga
– 15€ 1 workshop
– 25€ 2 workshops
– 30€ 2 workshops + Milonga