Dear esteemed tango friends,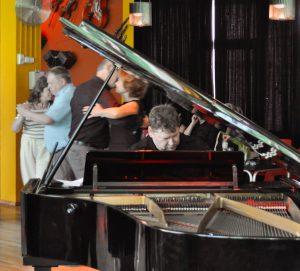 We have really enjoyed live tango music in Scala! This was in part made possible by the generous contributions of Friends of Live Music (Vrienden livemuziek).
We are continuing the initiative that we started a year ago. It has worked out well to offer performance opportunities to tango loving regional music ensembles. We were also able to welcome several large and well-known orchestras. They have all left an unforgettable impression.
For the coming year you can become a "Friend" once again. In this way you support TipoTango's efforts to create an attractive live music program that is also affordable to the public.
In addition, you are doing yourself a favor because you are also getting something extra in return:
• free admission to one of the milonga's with live music plus a complimentary drink
• your choice of a 4D poster or T-shirt
• lots of love from all the volunteers
Starting at € 50,- makes you a "Friend of Live Music".
You can sign up here >>
After registration, you will receive a confirmation. You can also sign up in person at SCALA.
Friendly greetings on behalf of all the TipoTango volunteers, Karin Bergsma and Ingrid Moonen